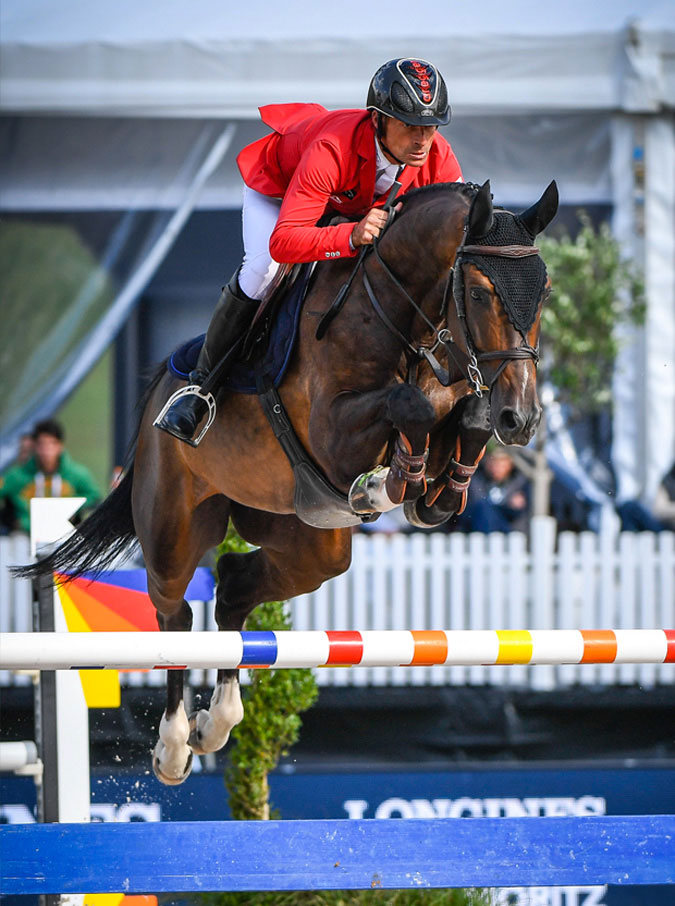 Pius Schwizer
«Riding is my passion – I live for it and for my horses.»
For many years Pius Schwizer has belonged to the World's best show-jumping riders. Thanks to his stamina, his meticulousness and his horse sense he made it to the top of the World ranking and held the lead for five months. In his long and successful career the Swiss rider has partnered with a vast number of horses and brought many of them up to international level. No wonder that his sporting statistic figures countless wins. Pius Schwizer lives for his sport and for his horses. 24 hours a day, 365 days a year. "I am grateful for being able to ride exceptionally talented horses and compete at the best shows all over the world. This eventful time is a huge joy for me and I would like to say thank you to all my friends, fans and sponsors for their great support!"
Date of birth:
13th August 1962
Lives:
Oensingen/Switzerland
Profession:
Professional rider, businessman
Marital status:
Married
Hobbies:
Jogging
Favourite food:
Beef filet Stroganoff
Favourite drink:
Coca Cola
Favourite music:
Local radio station Radio 32
Strengths:
Stamina, strong nerves,
focused on my goals
Weak point:
Sometimes too much energy
Motto of life:
Live and let live
Makes me happy:
Nice weather
Makes me angry:
Enviers, malevolence
Favourite show(s):
I love riding in my home country, Switzerland has so many super shows
Favourite horse:
All my top horses – I do have a special bond with Ulysse X, he has achieved so much for me
Greatest moment:
End of January 2010, when I became the Number 1 in the World ranking
Idol:
Achaz von Buchwaldt
Sporting wish:
No more rides with 4 points!
Goal:
I would like to make it to the top again
Olympic Games
2008, Hong Kong: Bronze Medal Team, with Nobless M
2012, London: 4th place Team, 12th place Individual, with Carlina IV
European Championships
2007, Mannheim: 4th place Team, with Nobless M
2009, Windsor: 1st place Team, with Ulysse X
2011, Madrid: 6th place Team, with Carlina IV
2013, Herning: 5th place Team, with Picsou du Chene
Swiss Cup Finals
Winner 1998, 2002, 2003, 2009, 2012, 2017, 2018
World Cup Finals
2010, Geneva: 2nd place, with Carlina IV snd Ulysse X
2011, Leipzig: 6th place, with Carlina IV and Ulysse X
2012, 's-Hertogenbosch: 3rd place, with Carlina IV and Ulysse X
2013, Gothenburg: 18th place, with Verdi III and Picsou du Chene
2014, Lyon: 8th place, with Quidam du Vivier and Toulago
Swiss Championship
2009, Bern: 1st place, with Ulysse X
2017 and 2019, Humlikon: 1st place with Balou Rubin R
2021, Humlikon: 2nd place with Karel VDB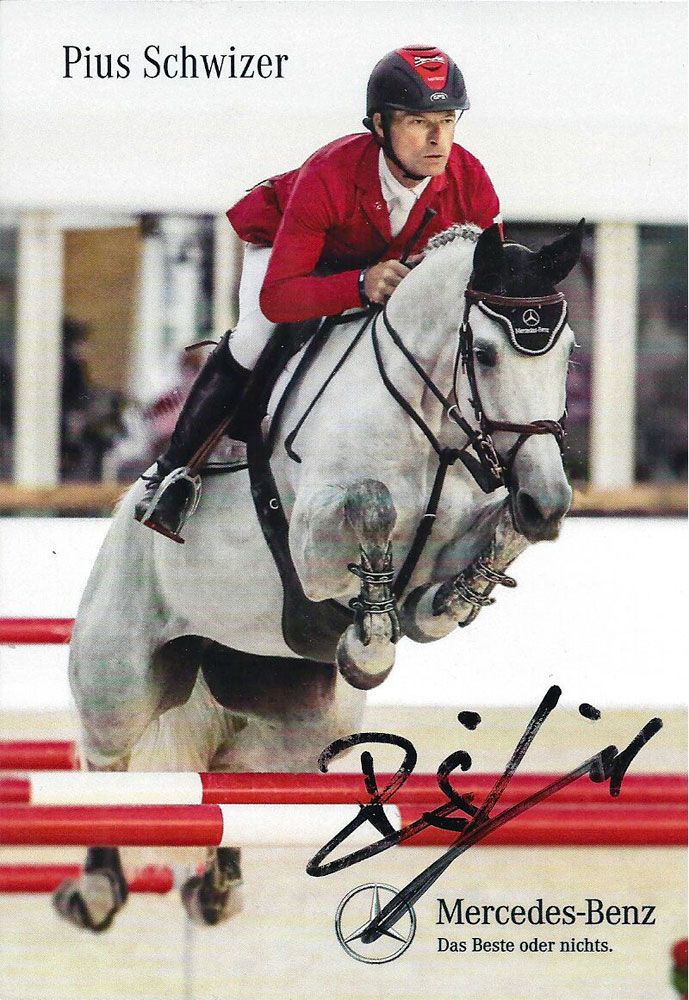 Autograph
Would you like to get a signatured photograph?
Just send a self-addressed envelope with an international reply
coupon (IRC) to:
Pius Schwizer
Aeussere Klus 8
4702 Oensingen
Switzerland